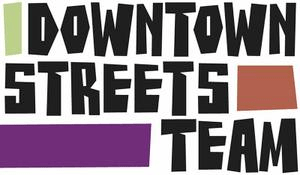 Job title: STE Employment Specialist

Company: Downtown Streets Team

Job description: COME CREATE IMPACT WITH US

Downtown Streets Team (DST) is looking for a passionate and outgoing Employment Specialist to cover San Jose to help us end homelessness through the dignity of work and the power of community. We run two proven programs in 16 cities that successfully transition the unhoused to self-sufficiency.
The Nonprofit Times calls Downtown Streets Team one of the best nonprofits to work for. Our innovative model of social action has been recognized as one of five evidence-based, best-practices in California. We offer meaningful work alongside compassionate and talented colleagues as well as competitive benefits & salaries. We encourage collaboration, creativity, and continuous learning.
SUMMARY:

The Employment Specialist will work directly with Team Members to navigate services and help them reduce the barriers to employment related self-sufficiency through strong organizational, problem-solving, and analytical skills, while managing priorities and workflow. The position will travel in San Jose.
WHAT YOU'LL DO
Travel in Santa Clara County will be constant part of the day to day operations
Maintain and develop relationships with employers resulting in pipelines for future Team Members and STE Employees
Report on employment retention at three, six and twelve month intervals for each employment placement
Facilitate employment curriculum at each site four times a year
Coordinate and run employment application events with staff and volunteers
Market Downtown Streets Team to the community
Build partnerships with local agencies to provide emergency, transitional, and permanent housing opportunities for Team Members
Collaborate with businesses, community organizations, and volunteers to increase and improve employment prospects for Team Members
Present new services and opportunities to entire Team at designated Employment Specialist section in weekly Success Team Meetings
Track success metrics and input data into online systems such as HMIS
Establish productive relationships with each and every Team Member with no bias or prejudice towards race, religion, age, sex, disability, or sexual preference
Strong organizational, problem-solving, and analytical skills, while managing priorities and workflow.
Uphold organizational values, work ethically and with integrity and follow company policies as laid out in handbooks
ADDITIONAL DUTIES AND RESPONSIBILITIES:
Delegate your schedule to be able to support each community equally
Effectively maintain established Employment Development programs
Create and deliver new Employment Development programs to enhance Downtown Streets Team's offerings
Assist Team Members in the creation of resumes and other job search collateral
Find creative ways to increase job opportunities
Develop and support long-term career goals for Team Members and track progress
Facilitate Job Search Skills classes, and conduct Apply-a-Thons while engaging corporate volunteers
Help develop additional workshops to enhance empowerment and soft skills
Help ensure that Team Members have long-term success by targeting a high retention rate (jobs held for one year)
Represent the agency in the community and work with all partner organizations to achieve client goals
Perform other duties as assigned by manager and assist with special projects as required
WHAT YOU'LL NEED:
HS Diploma or equivalent
Ability to perform job duties with minimal supervision
Excellent listening comprehension, written and verbal communication skills
Experience in Microsoft programs
Using personal computer, keyboard, mouse and monitor
Observation and problem solving; hearing, seeing, reasoning and decision making
Basic mathematical ability
Valid CDL, insurance and access to a reliable vehicle
Regional travel 60% is required
Physical Requirements: Sitting, standing, walking, bending, stooping, pushing, pulling and lifting (up to 25 lbs.)
Driving an insured and operational vehicle to designated communities (60% or job)
Employee can be based out of any of the communities they will be serving
WHAT WE CAN OFFER YOU
A chance to positively impact your community on one of the biggest domestic challenges of the day
Competitive nonprofit compensation
Annual company cost-of-living increase
Up to 90% employer paid medical coverage, and fully paid dental, vision and life insurance coverage for employees, with FSA and HSA health plans available
401k with up to 6% company match, after one year
15 days off PTO, increasing with tenure
Over 10 paid holidays annually
Paid company closure for five days during the summer
Paid company closure between Christmas and New Year
Day off on your birthday
One month paid sabbatical after five years, not charging PTO
Internal growth opportunities
Access to professional development resources and reimbursement
Employee Assistance Program (EAP)
COMMITMENT TO DIVERSITY

We thrive as an organization when unique identities, experiences & perspectives are represented. All qualified applicants will receive consideration for employment without regard to race, color, religion, gender, gender identity or expression, sexual orientation, national origin, genetics, disability, age, or veteran status.
COVID

Downtown Streets Team does have a vaccination policy that requires employees to prove that they have received the COVID-19 vaccine or have a valid religious or medical reason not to be vaccinated.
WE HOPE YOU WILL CONSIDER JOING US TO MAKE A POSITIVE IMPACT IN OUR COMMUNITY.

Expected salary: $55000 – 57000 per year

Location: San Jose, CA

Job date: Fri, 01 Sep 2023 04:36:46 GMT

Apply for the job now!