March 28, 2023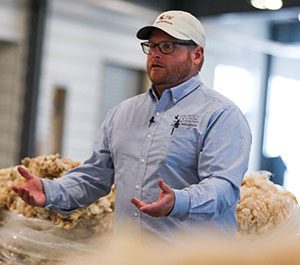 Whit Stewart, UW Extension sheep specialist, is among organizers of a budgeting, benchmarking and marketing workshop for sheep producers April 19 in Lingle. (UW Photo)
For sheep producers interested in learning more about budgeting, benchmarking and marketing, University of Wyoming Extension will offer a free workshop in Lingle Wednesday, April 19.
Producers of all ages, experience levels and operation sizes are welcome to attend the event, hosted by the James C. Hageman Sustainable Agriculture Research and Extension Center.
The workshop begins at 3 p.m. and concludes at 7 p.m. Dinner will be provided.
"Keeping track of your levels of production and costs on your sheep enterprise is important to ensure profitability, though it may appear daunting," says Whit Stewart, UW Extension sheep specialist. "Join us for an interactive conversation on knowing where you stand relative to other sheep operations on production levels and costs, marketing strategies and everything sheep production."
Stewart will lead the workshop, along with Jaelyn Whaley, South Dakota State University Extension sheep specialist, and Brian Lee, UW agricultural economist. Stewart also will facilitate a question-and-answer session.
Presenters will discuss what production parameters and costs are important; how to calculate key costs and successfully develop an enterprise budget; and how to match production calendars with optimal markets.
Attendees are encouraged to come prepared with basic information about their own operations, such as the number of ewes and lambs they market and feed costs.
"What is unique about this program is we hope to sit down with producers and help them work through their numbers," Stewart says.
To register, call (307) 837-2000 or email blee@uwyo.edu.
The American Lamb Board, UW Extension and Wyoming Wool Initiative provided funding for the event.
About University of Wyoming Extension
Since 1914, UW Extension has provided lifelong learning opportunities to Wyoming citizens across the state. With roots in agricultural education, UW Extension supports rural communities facing contemporary challenges and changes. UW Extension brings the university's resources to each of the state's 23 counties and the Wind River Indian Reservation. To learn more about UW Extension, visit www.uwyo.edu/uwe or call (307) 766-5124.