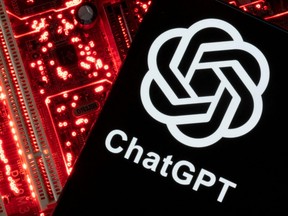 Article content
Hello readers, this is Rudy.
Article content
This week, I am trying something new. For the past two-plus years, I have spent my Wednesday mornings mulling over what to write my weekly opinion column about. Sometimes, an idea comes quickly, other times, like today, I really have to dig.
With so many headlines about ChatGPT in recent months, I decided to conduct a little experiment for my column this week.
For those unaware, ChatGTP is an artificial intelligence chatbot developed by OpenAI and launched in November 2022. Classified as a 'large language model,' ChatGPT has been trained to interact with users in a conversational way, answer follow-up questions, admit its mistakes, challenge incorrect premises, and reject inappropriate requests.
In an effort to test the limits of its seemingly endless capabilities, I asked ChatGTP to respond to the following prompt: "write me a 500-word opinion column in the style of The New York Times about the ethics of using artificial intelligence (AI) to write an opinion column."
Article content
This is the response ChatGPT gave me in exactly one minute and 23 seconds:
As a language model powered by artificial intelligence (AI), I am well aware of the advancements made in the field of AI and how it is changing the world. With AI, it is now possible to automate many tasks that were previously impossible, and writing an opinion column is one such task that can now be done with the help of AI. However, the question remains: is it ethical to use AI to write an opinion column?
On the one hand, AI has the potential to revolutionize the way we think about opinion columns. It can help us to analyze vast amounts of data, identify patterns, and generate ideas that may have been difficult for human writers to come up with. In addition, AI-powered opinion columns could be produced much faster than those written by humans, allowing for more timely responses to current events.
Article content
However, there are also ethical concerns associated with using AI to write opinion columns. For one, there is the issue of bias. AI is only as unbiased as the data it is trained on, and if the data is biased, then the resulting opinion column may also be biased. Furthermore, AI-generated content may lack the nuance and complexity of a human-written column. Opinion columns are supposed to reflect the writer's unique perspective and voice, and an AI-generated column may not be able to capture that.
There is also the question of authenticity. Opinion columns are supposed to be the product of the writer's own thoughts and ideas, and using AI to generate those ideas could be seen as disingenuous. It could also lead to accusations of plagiarism, as some may argue that the AI is simply regurgitating information from other sources.
Article content
Furthermore, there is the issue of job displacement. If opinion columns can be generated by AI, what does that mean for the humans who have traditionally held those jobs? Will we see a further erosion of jobs in the journalism industry, and what will the implications of that be for our society?
In my opinion, while there may be some benefits to using AI to write opinion columns, the ethical concerns associated with it outweigh those benefits. Opinion columns are meant to be authentic expressions of the writer's voice and perspective, and using AI to generate those ideas is not truly authentic. Additionally, the potential for bias and lack of nuance in AI-generated content could lead to misinformation and further exacerbate existing societal divisions.
Article content
Instead of using AI to write opinion columns, we should focus on using it to enhance the work of human writers. For example, AI could be used to help journalists fact-check their articles or to assist with research. By doing so, we can leverage the benefits of AI while ensuring that human writers remain at the center of the opinion column industry.
In conclusion, while AI has the potential to revolutionize many industries, including journalism, using it to write opinion columns raises significant ethical concerns. As we continue to explore the role of AI in journalism, we must be mindful of the potential consequences and ensure that we use it in a way that aligns with our values and ethical principles.