Article content
Local writer Esther Sonnenberg signed copies of her new book The Esther Challenge during her "COVID coming out party" March 31 at Crossroads Community Church.
Article content
Approximately 15 people attended to hear Sonnenberg speak about her book, which challenges readers to "age with excellence and dignity" (AWED).
"Even in the midst of difficulty, and the place where you feel you have nothing left, you still have a place of excellence," Sonnenberg said during her presentation.
"I challenge you to see that seed of destiny that is in every person, and in every person you meet, and give them not 'guilt language,' but 'glory language.'"
Sonnenberg told the Mayerthorpe Freelancer that The Esther Challenge was published by Yairus Publishing House in 2022.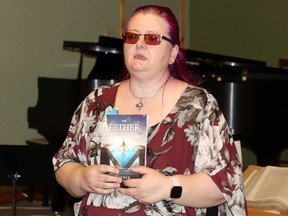 During her presentation on March 31, Sonnenberg said living in "AWED" means to "live in that place of altruism."
"How many of us have wounds in us that say, 'you're not good enough, not smart enough, not able enough?'" Sonnenberg asked attendees.
Article content
"If something hits your armor, find that source of shame, and God will help you heal it."
The book is dedicated to her parents. "It was your dignified walk through your valleys with the Lord that became the fertile soil in which my seeds of destiny needed to grow," Sonnenberg said.
During her presentation, Sonnenberg spoke about some of her struggles, and how she felt that "God had me covered."
Sonnenberg also challenged attendees to take a blank piece of paper and pen and write down what they don't like about themselves. Then, she asked them to write what they like about themselves.
"How easy was it to do List 1, and was it harder to do List 2?" she asked.
Sonnenberg provided the paper. On the flip side of each page, which attendees turned over afterward, were the words from John 3:16-17.
Sonnenberg said during the event that Yairus has now published two books featuring her writings, as she is one of multiple authors of the book Seeds of Wisdom.
Seeds of Wisdom, offering "words of wisdom," was also published in 2022.
bquarin@postmedia.com